I feel like jumping KL Tower not for suicide! (Note: Suicide is irresponsible and reckless! Say NO to Suicidal action). Due to my out-of-the-sudden emo-attack, I was rather down this time. Plus, suffering from 4-in-1 symptoms (sore throat, running nose, neck pain and fever), this was one of the darkest moment in my life.
Anyway, less than 10 days, another year is going to take over! Yes, a fresh new start! I need some huge modifications in life! I don't want to be always that weak! So, let's jump and toss everything into the air!!!!!!!!!!!Hahaha, so, this time, I was surprised to be one of the winners for KL Tower International Jump! Super duper cool! I was hoping to jump, oh well, it was just as an invitation for spectators.
Along with my friend, we took the train and walked to KL tower. Oh my, going to KL tower via public transportation really troublesome, we were lost and walked like there was no tomorrow!
As always, poised at the heart of Kuala Lumpur, KL tower still remained its beauty. But, the lack of utilisation was really sad to see. Anyway, at least now got a jumping event over there!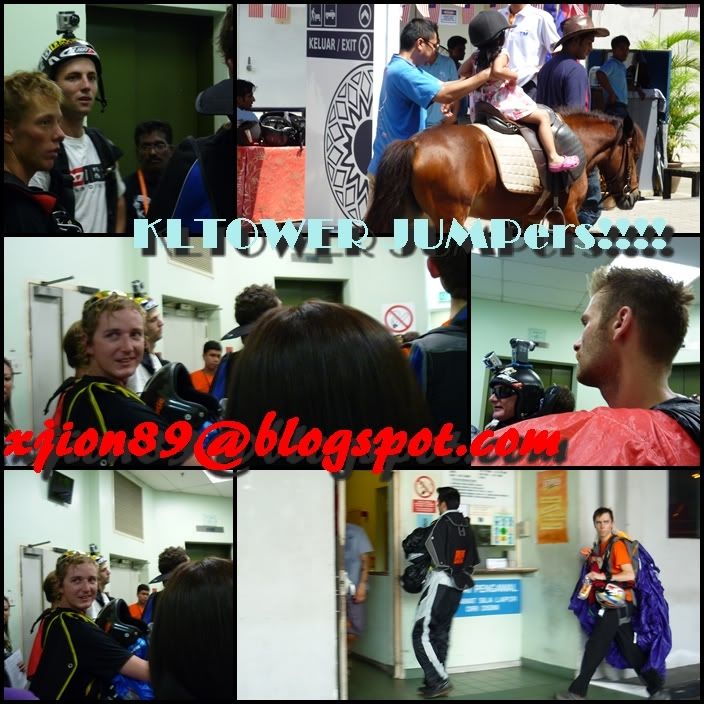 Anyway, after registering at the counter, we were escorted to take the elevator. Omg, it took don't know how long for the elevator to arrive, this really means that KL Tower is tall, I guess. While waiting, my itchy hand was taking photos of the participants or jumpers! Most of the jumpers were foreigners and male! Yup, only a few ladies there!
After waiting for quite some time, we reached the open area of KL Tower. Wow, it was a bit crazy seeing people just jump like that. I got the chance to sit at the edge of the tower! It was rather cool! I might have jump if I got the parachute(^^)! It would be great to experience free fall....hahahaha~~~
Trust me! It was blood-pumping to see people just jump like that! After getting my insurance, maybe one day, I will try (^^)!!!~~
Finally, a very leng zai jumper decided to jump at my area! But, I got only 5 minutes left. So sad! Seeing him preparing his safety gears and attires, it was really an eye-opening experience! But, too bad, I was blocked by another jumper because he wanted to see that leng zai jump woh(white shirt guy with the hand)! Omg, blocking my view only. Sad becoz sooner or later, he was going to join the lengzai mah~~~!Note: a very pretty foreign lady was also in the picture, really like a model!!!~~