My family and I have been an Ikea fan for a long time before Ikea moved from Damansara to Mutiara Damansara! Before moving to Kuala Lumpur for my studies, we made a few trips to Kuala Lumpur occasionally as a getaway and Ikea would always be on our list. Now, staying in Kuala Lumpur, whenever my parents visit me, we still would go to Ikea.Yes, there is something magical about this place!


Of course, our main purpose to Ikea usually would be shopping! Seeing beautiful interior decoration really makes our day brighter apart from inspiring us to D.I.Y our homes as well. Some things are cheap; some are affordable; and some are super expensive. Therefore, Ikea is really a place that caters the needs of all walks of life! But, today, we are not going to look into decoration because
Ikea foodie also offers amazing dishes that must not be missed!
Of all the times we visited Ikea, it finally came across my mind that I have yet to blog about it! So, let's have a look at the restaurant!
As you can see, Ikea is really a shopping heaven. At the same time, it is also a food heaven for some of us. Pardon me, these photos were taken during Chinese New Year (Yes, I totally forgot about Ikea foodie even their food is delicious!) Maybe it is already a fact that is known by everybody perhaps?! That's why I always forget to introduce it because it is already so famous! Hahaha~~~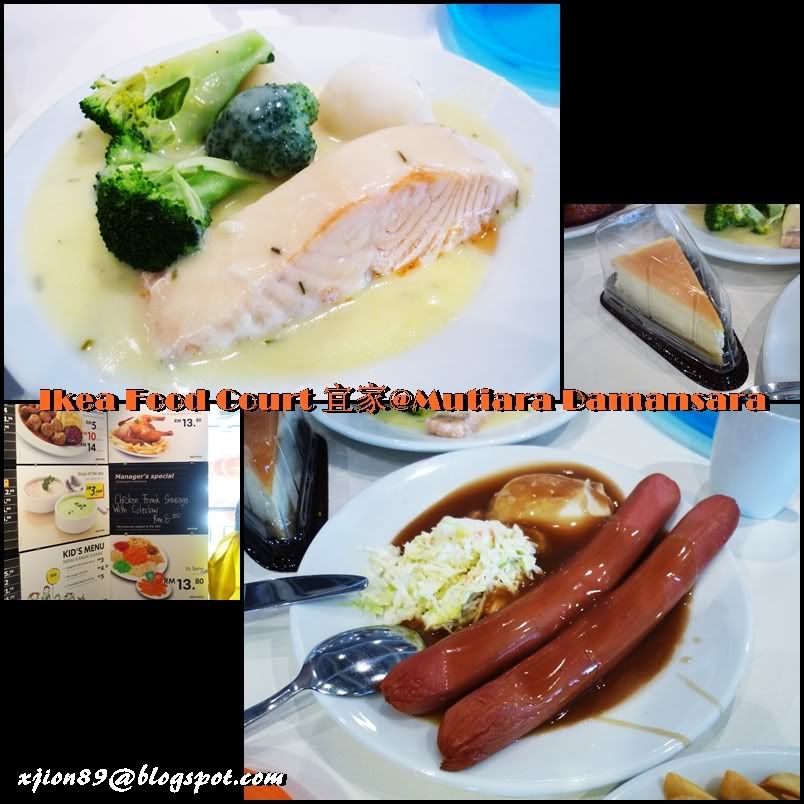 Here are those normal dishes we love to order! The
salmons
were quite fresh and the sauce made it taste better too! Oh ya! Those
huge sausages
really could fill up our tummies! Of course, we must never forget the dessert -
Cheese cake!
It was well-baked! Even though the prices were above average, I must say that it is still worth it!
If you are not a big eater, both of you even can share a set!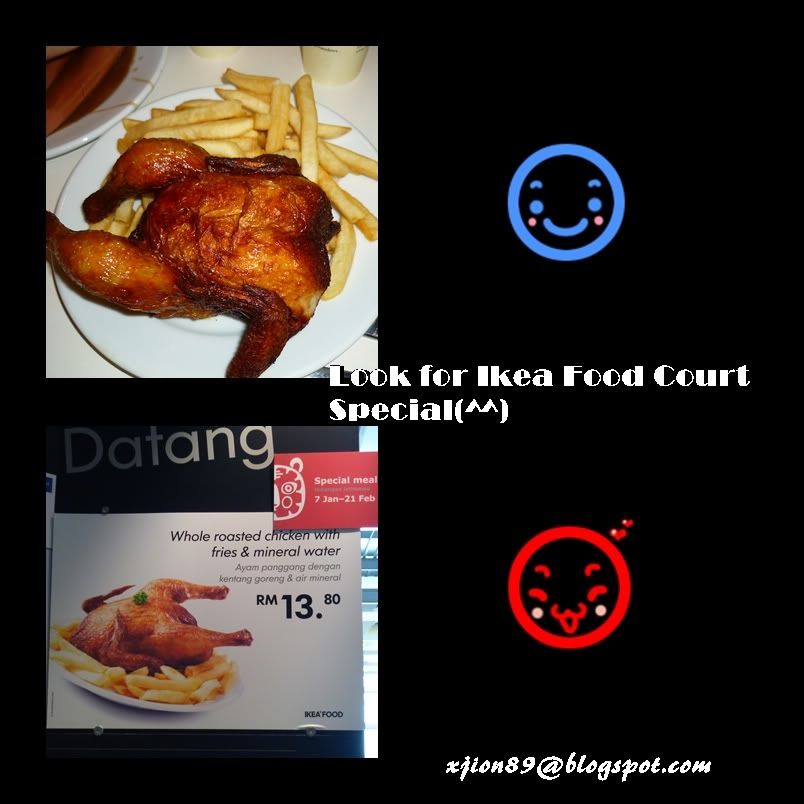 What I also like about Ikea Foodie is that they sometimes have offers! For example, during CNY, a promotion dish was introduced -
Whole Roasted Chicken with Fries & Mineral Water. Overall, it is worth to try Ikea Foodie.
Ikea foodie is also
halal
, I guess because seeing so many Malays friends are having lunch there~I also think that they are having a
Buka Puasa Buffet @ Ikea Mutiara Damansara
. So, for more info, check Ikea official website.
Ratings
Taste: 8.5/10 (Swedish Cuisine with Malaysian touch!)
Price: 5.5/10 (Mutiara Damansara is a classy place!)
Appearance: 7.5/10 (Sometimes doesn't match the advertisement, hahaha)