Finally, my request for my cash out had arrived on
Jan 5
which I requested on
Mid of November 2008
. But, at that time, I was still in KL. Therefore, I asked my mum to keep it first. I just wanna have a look at the real cheque! (Hehe, silly me). Anyway, I have blogged for
almost a year!
Omg, time just files!
Ooo, I have worked hard to maintain my blog. Well, occasionally, I "dumped"
My Little World
due to reasonable reasons?! Hehehe, for example, final examination!!!!! But, starting this blog is quite fun for me. Writing is a passion of mine. When I am feeling down, I really can put all the bad energies here...Sorry bloggie!!!! When I have good news, I share with you all. What is so great about blogging is that I can meet people from all walks of life. As you can see from my blogroll, they just keep on expanding! Anyway, here are something about me and my blog.
Some Interesting Facts on My Little World:
This is my

114th post

! Omg, I miss my 100th post! Haha, I just kept on writing!
My blog unique visitors have reached

more than 10k

! (It is unique visitor!!!hehe)
My Little World's banners are

ever-changing

.
The Author has not shown his real face or introduce himself to the public. But, he did post a picture of himself in a group. Anyway, appearance is not important.

I bet you all do not want to see my not-so-nice face at all.

Xjion89 is a creation from

my Chinese Name

Currently English:

Jaylee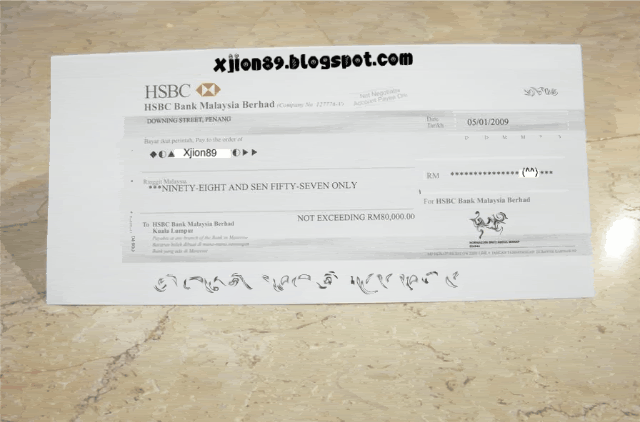 Yes, finally, here is the cheque. Okay, guys. I know that this is not a huge amount....like you know who...
Mr Kennysia
. But, to me, it is quite a lot. Ngam ngam enough for me to buy some Chinese New Year stocks. Hehehe........
About
RM100.00 thanks to 10000 of people!
Numerically:

Every visitor worth

RM 0.01 /1 cent

Sentimentally:

Every visitor is

priceless




Ultimately:

Thanks for all of the support! I heart you all!

Keep on supporting my blog!!!
Happy Chinese New Year!!!!! Moooooooooooo....................
---